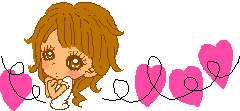 It's the day for love! ♥
My boyfriend is taking out to dinner tonight. He won't tell me where we're going, so I guess it's a surprise. Sadly, all he's getting from me is some homemade chocolate! xD
I want to look my best for him though, so I've gotten all dolled up.
(Even sitting here typing this in my nice outfit! xP)
(Click on em for bigger pictures~)
Wow! I look 1000000x times better with circle lenses. Haha, I know he likes my normal eyes and all, but psh, I've gotta look absolutely amazing.
My outfit is sorta plain, I suppose. I didn't want to add a whole bunch of layers cause I like how the buttons really stand out against the black and white of the rest of the outfit.
What are you doing tonight for Valentine's tonight? Seeing a boyfriend/girlfriend, spending it with friends, or just staying home chilling? I hope no one is forever alone~! ;0;

Caylee ★