Hello sweetie pies!
I haven't posted in nearly a month..
I haven't really felt like blogging lately, but I'm still here, dears!
Today I'm just popping in to wish you lovelies a

Happy

Thanksgiving

!
I'm spending mine with family members that I only see once or twice a year,
so this is definitely an important day for me!
I know here in America, a lot people view it as a day to over eat,
but it's true purpose it about being thankful for what you have in this world!
I know I have a negative attitude about a lot of life aspects,
so today I'm going to try and truly be thankful for what I've got.

♥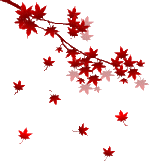 See you babes again on the 1st or 2nd!
Have a beautiful Thanksgiving and weekend!
Be sure to spend plenty of time with your friends and family~

♥
Love you!
Chu~